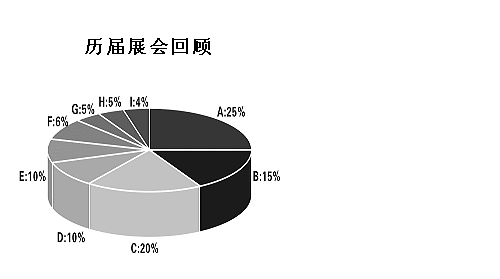 A: Manufacturer / Dealer/ Agent/25%
B: Overseas purchasing group 15%
C: Plastic/Rubber 20%
D: Textile/ Printing and Dyeing /Clothing10%
E: Fire-proofing coating/Paint/Furniture10%
F: Mattess/ Non-woven fabrics/ Train/Autocar inside decoration 6%
G: Wires/Cables 5%
H: Electron/ Electrical apparatus 5%
I: War industry/ Army/ Hospital/Super market/Hotel/Large meeting hall 4%
For the Eleven previous International flame-retarding exhibitions hold successfully, it attracted nearly four million professional personages to visit within as short as few days to present unprecedented pomp. This exhibition has an area of more than 15000m2, and exhibits flame retardant, flame-retarding material, flame-retarding textile and relevant products of Europe, U.S.A, Japan, Italy, South Korea, Germany, Denmark, Hongkong, Chinese mainland and so on, and meanwhile, they also represent new technology, new products and latest development trend of international flame-retarding industry and arouse resonance inside industry.
Exhibitors: U.S.A: GOVMARK; C0MTREX, LLC; ZOLTEK; Germany: BUDENHEIM, THOR, RUETGERS ORGANICS GMBH; Russia: KHIMVOLOKNO, JSC "POLOTSK-STEKLOVOLOKNO"; British: AVOCET DYE & CHEMICAL COMPANY LTD; Kaneka Corporation Japan; Israel ICL; Taiwan Green Yard Technology, DEAR MAN INDUSTRY CO., LTD, Far Eastern Industry (Shanghai) Ltd, Taiwan Qunyi; Kingfa Sci. & Tech. Co., Ltd., Krono and Jilin Chemical Group Co., Ltd. They are representing the new technology, product and latest development trend in flame-retarding industry home and abroad.
The 14th International Flame-retarding Technology and Flame-retarding Material Industry Exhibition in China & International Forum will be hosted by China Flame Retardant Society, together with International Antimony Association, Germany Plastics Center, European Flame Retardant Association and American Fire Retardant Chemicals Association. Companies home and abroad will participate in this exhibition. We will show latest technology and product home and abroad at this exhibition.
Warmly welcome to participate in this exhibition!